Firstly, thank you to everyone who used their reward points to vote for a charity last month. Your generosity is much appreciated!
OUR JUST GIVING AWARDS
We are very proud to showcase our Just Giving awards as seen above. Each one means that Lotto Social has been in the top 1% of givers for the above months. This is all thanks to you, our lovely generous users!
SEPTEMBER RESULTS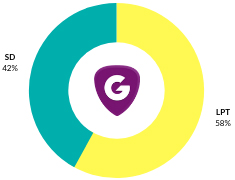 We will be splitting our £1000 August donation with £580 being donated to Little Princess Trust and £420 towards Street Doctors. Check out our new charities for October below. If you would like to suggest a charity to feature in Charity Of The Month or have any questions, then please get in touch at [email protected]
October Charities
End Youth Homelessness
End Youth Homelessness is a collaboration of charities that gives young people across the UK a safer place to live. EYH work towards 4 main targets, these are: housing, health, work and prevention, providing young people HOPE for a brighter future – Find out more here.
If you'd like to put your Reward Points towards supporting EYH, then click below.
Act Against Bullying
Established in 2000, Act Against Bullying was formed due to concerns about the escalation of bullying in the UK. Being one of the longest voluntary anti-bullying charities in the UK, ACB aims to provide practical advice to under 18s if they are being bullied – Find out more here.
o put your Reward Points towards this extremely worthy cause, click below.
How members have pledged so far
Every time you pledge, you will shift the percentage on the pie chart towards your chosen cause. We will then donate £1000 to charity at the end of the month and we'll split it up exactly how you choose.
Previous Supported Charities
The charities shown here are a few examples of previous causes we have supported. Children With Cancer UK and Glass Door were our January selections. Both benefiting from your donations, helping the charities on their way to achieving their goal. Warm HHugs and The Soup Kitchen were our Christmas selections. We decided to support these charities because of the cold winter, it's a hard time of year for the homeless and struggling families.